Archive for the 'Halloween Props' Category
Ghoul Friday is once again creating her spooktacular mini minions next door in Canada.
She has created Mini Peek-a-Boo plants for the Festival of Fear, along with other mini props.
Check these little 'eye catching' critters out…
Click on the image to go directly to Fridays Mini Peek-a-Boo blog entry.
So I decided to go a'searching for some Halloween crafting ideas and decided to start over at PumpkinRot's blog. After all I had to see what he has masterfully created lately right?
So check out what I found and absolutely love.
Click on image to go directly to the Witch Jar blog entry.
Lauriebeast at Halloween Forum
Lauriebeast's Photobucket
She has done it again!!! This is Ophelia the Witch and she is amazing! She isn't complete yet, Laurie has yet to dress her. I will keep watch for the completed Ophelia and post her as soon as she is finished, until then…check this out:
PumpkinRot has done it yet again. At this point I don't think he will ever stop, and I truly hope he never does.
Here are The Sentinels…
So Dave from over at Shadow Farm is creating to his hearts content… and making me feel much the slacker.
The folks in town say there used to be a cemetery somewhere on the Shadow Farm, but ages have passed and the exact location is unknown. It is said that when there has been enough rain to loosen the soil, the long departed souls can inhabit any life that touches the remains. Such is the case for Nigel Skullsworth Pennington. You see, the roots of the pumpkins have run unusually deep this year, working their way into the mouldering remains. We see Nigel in the moment of realization that he has escaped the bonds of death and now inhabits a new form. Nigel Skullsworth Pennington is ready for mischief. – Dave
Introducing Nigel Skullsworth Pennington…
Dave the Dead has done it again… The Shadow Farm
"There is something horribly wrong with the pumpkin crop at The Shadow Farm. Perhaps the legends are true that there used to be a cemetery where the garden now stands. The pumpkin crop has grown very well in the dark, rich soil. The plants have grown strong with deep roots, but every harvest there are no fruits left to pick."
"It almost like they are just walking away."  -Dave the Dead
Now presenting Scott Stoll aka Stolloween. The man is the king of paper mache. You must go take a look at his website, search around and be amazed at what the man has done/can do.
Here is a taste…
Lauriebeast at Halloween Forum
Lauriebeast's Photobucket
Presenting… da da da daaaaa… Laurie Beast!! This woman is amazing with paper mache and air dry clay, let alone anything she sets her mind to creating. Yes, I am worshiping her :::bows::: Yes, I want her skills. Yes, I am oh so jealous. Enough already… let me show you why.
Vampiress Morbidia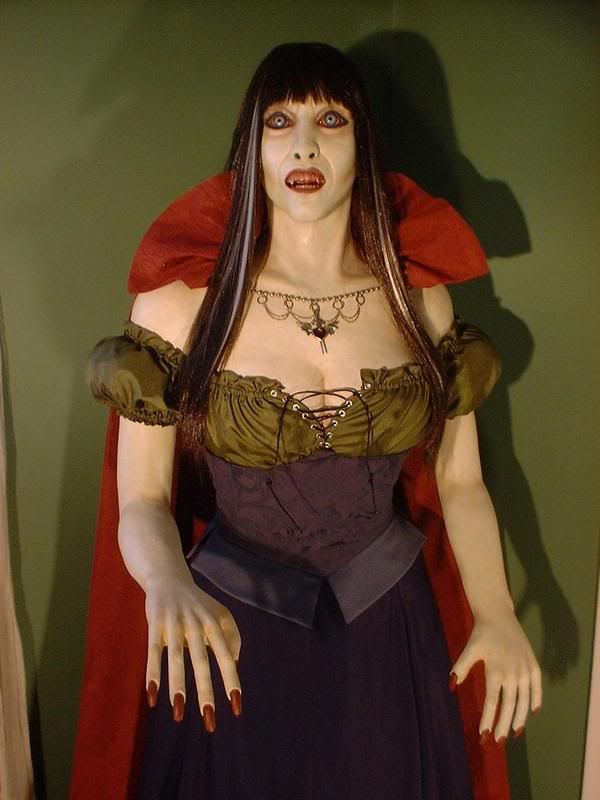 Elfula Helmet – WIP but its gonna be great!!
The original Pumpkin Rot himself… the man's imagination is beyond words. Many have taken his ideas and modified in their own attempt at his greatness, but I have seen no one come close to being his equal. Yes we all know that others have their own very masterful ways but Rot still holds the stage when it comes to scarecrows.