Archive for the 'Halloween goodness' Category
PumpkinRot posted a few of these Potterybarn photos on his blog this morning and I just had to follow suit. Love the new stuff they are coming out with nowadays.
I wanted to jump on here quickly to say Happy Halloween to everyone and figured I should check my email and do a Halloween scream out over on Facebook first. To my ::: insert little girl giddy squeal ::: surprise I had a message from Jodi Cain of Tattered Rags. I have won her Halloween Doll Giveway!!!
Me!! I have won something! On Halloween even!!! The Halloween ghostly Gods are smiling on me this morning I tell ya.
So here are links to Jodi's creations, then I will show you the doll I have won.
Tattered Rags website
Tattered Rags Blog
Tattered Rags on Facebook
Tattered Rags on Etsy
And now… ::: trumpets ::: the new addition to my spooky little home: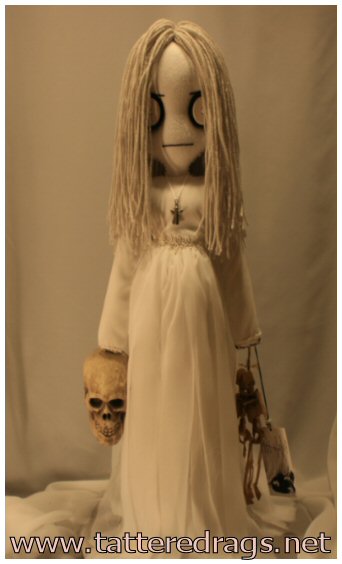 First lets start with saying… I don't like to cook. I can and I do it very well, but it's just not my thing. When I was younger I did like to bake cakes for the family but they were never from scratch, always from a box.
With that said, I have had the urge to create some Halloween fun'ness with food. I haven't found just what it will be, but most likely something cupcake related.
In searching for ideas I have ran across a few images I must share.
This first picture is for my dearest friend Chris Davis, although she will probably disowned me after this…
Skull Cake
For you Harry Potter fans
Another one for Chris Davis… :::giggles:::
Zombie Cake
Nightmare before Christmas
…and finally, something to eat them all with…
The Halloween mags are starting to hit the stores and I have picked up a couple. The only one I have found worth mentioning is Better Homes and Gardens. Why? Because Scott Smith of Rucus Studios created some halloween silhouettes at the request of the editor. I think I have the explanation right…if not Scott can set me straight.
This is Scott's picture from his own blog, hope it's ok for me to use this Scott, I have it linked back to his own blog post about the BHG entry.
I have also gone over to BHG website to snag the silhouettes that Scott had given them for the mag. To save some time I put them in my Google Doc's and shared them to everyone. There are other silhouettes there from other submitters to BHG. These are all free to use per BHG. I will add more to the Google Doc's as I find them online or as I make them. I'm also going to try to figure out a way to share my Google Doc's through this here blog, just need to wrap my brain around it and do it. I am so smart, SMRT.
Google Doc's Halloween Silhouettes
This is so friggin awesome!! So get this, Chris Davis of Davis Graveyard came up with the webby idea for Halloween this year. First off… she is an Arachnophobic, so for her to come up with this idea is not only off the friggin hook, but I believe may be therapeutic to some degree. Ok, Ok… might not be therapeutic in a good way, but may just send her to therapy!!
Here is her original blog post with her idea that states:
I, the Frog Queen, being of (decidedly) unsound mind, asks my talented, good looking, brilliant and great taste in blogs haunters to make and send me creepy spiders (creepy was redundant wasn't it?) for this "group Halloween prop" project.
Awesome!!! She goes on to mention she will have Marci take pics of the display and will send to people that participated in sending spiders. She would also like to make this idea a tradition and have it rotate through the Home Haunters every year. Flash mob type Halloween displays, with the Home Haunter picking the theme.
Chris I hope you get paid the big bucks at work… this is Marketing genius!!!
More coolness… she has created a blog for Spiderfest. Actually Guy of House of Bloodthorn setup the blog for Chris so she can post about her precious spider infestation. You never know… maybe Chris will take up spider collecting along with her froggy'ness. I'm thinking…not.
So I have become addicted. I will tell you to what here in just a sec, but first I wanted to say that no intervention is necessary. I totally own this addiction and in fact have no intention of 'breaking the cycle'. I will stand up and proudly announce that I have become addicted to….
I know there are others of like addiction out there and I'm going to out Chris Davis in this 'coming out' blog. I will tell you now that I intend, as time permits, to be pushers of these here Bloodshed Brothers and you shall not resist me. I have been living vicariously through these two on the Garage Sale/Thrift Store escapades. Embarrassing to say that I am drawn to watching them shop for 'finds' ::: hangs head ::: Gawd forbid they ever start to do real time shopping video's!! I will be doomed!!
So who are these Bloodshed Brothers that I speak of? They are none other than Zach and Jeromy Ball of Temecula, Ca. They are born haunters and only being 22 years old,  have a long haunting life ahead of them, not to mention  many years to entertain us.
They run a home, walk through style, haunt during Halloween that attracts some 900 attendants! Now that is just friggin awesome in itself!
If you haven't checked these guys out, get yer butts on over to You Tube and watch for yourself. I will save you a seat at the next BBA (Bloodshed Brothers Anonymous) meeting.
Matter of fact… how 'bout I just throw you a little taste…
Everyone needs to boogie their butts on over to Chris's blog for the contest. They have some awesome prizes, so far, to give away… all of which I want BTW!! So when you guys get over there to enter, make sure you put MY name, Kimily or Kimbooly, for the entries ::snickers::. To enter you must leave a comment to get one entry. You will receive addition entries by blogging about it on your blog and by Tweeting about it on Twitter. I'm sure if you were to erect a sign on your front lawn or put out a full sized highway bulletin board, they would count that as an additional entry as well.
Not familiar with the Davis's? Oh you have been missing out!! They, Jeff and Chris Davis, are Professional Home Haunters that transform their house and yard into one massive Graveyard… also known as The Davis Graveyard.
I love Chris dearly, even though I have never met her, she is truly awesome'ness!! ..and no, this isn't me trying to butter her up so I can win, I sinisterly mean it…erm, I mean sincerely. ::: evil giggles :::
I haven't met or spoke to Jeff but from what I hear, he is awesome too.
Here is a picture of what they are offering for the contest.
The Reapling is finished. He has always wondered about this thing they call Halloween, after all, many people dress up as him that night. So what was death to do? Carve a pumpkin!!
I am very much in the learning phase on photoing small dolls and to get the hang of my SLR Digital. What you can't see from the photo is that there are pumpkin seeds in the bottom of the pumpkin, and the rest of his cloak. I will get some more pics of him, maybe out in the garden.
He ran out of work and rushed to the store.
Then sped to his home and shot through his door.
With pumpkins and candy and black cardboard cats.
With cornstalks and devils and tiny witch hats.
He strung purple lights and soft orange crepe.
He hung paper bats with two-sided tape.
He gutted the pumpkins, the best in the bin.
He stabbed each some eyes, a nose, and a grin.
He rushed to the lawn – The Front Yard of Fear.
And set up his zombies he built through the year.
He constructed his graveyard with tombstones of foam,
And placed a cloth ghost in its gloomy crypt home.
He dressed his new scarecrow with a hat and a coat,
And staked in a post for a sign that he wrote:
Beware Ye!
Go Back!
Not Safe!
He laughed a small laugh and smiled with pride.
Then scattered some leaves and ran back inside.
He heated up cider and warmed up some pie.
He colored white frosting with goblin-green dye.
He filled giant bowls with popcorn and treats,
Toffee and chocolates and soft sugared sweets.
He changed from his suit and slicked back his hair.
He donned a black cloak and sat in his chair.
He popped in his fangs and gave them a bite.
Then smiled sharp teeth and waited for night.
Now that his planning and hard work was done,
He listened for sounds of laughter and fun!
He imagined kids running in white ghostly sheets.
Hobos and monsters on shadowy streets!
With masks made of plastic and rubber and paint.
He thought he heard children distant and faint!
He pictured their parents, excited and proud,
Escorting small creatures, eager and loud!
They'd spot his great house, then gather and flock.
They'd block up the street and clog up the block!
They'd line up for hours for a look and a treat.
He thought he heard sounds of scurrying feet!
It was only dry leaves swept along by the wind.
He breathed out a sigh, his proud smile thinned.
His dreams and his hopes of Halloween fame
Blew away with the leaves. Nobody came.